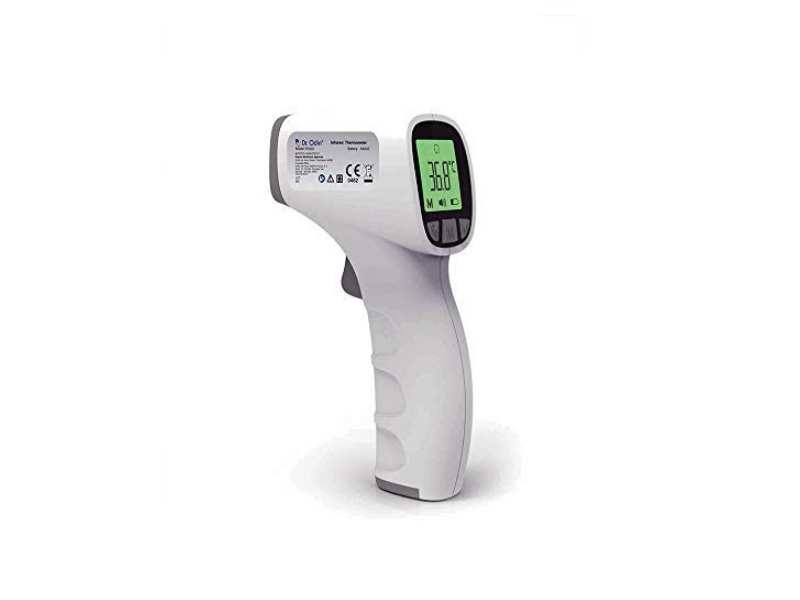 Welcome to our recommendations and advice on how to get the most out of your non-contact thermometer. The infrared thermometers allow you to make very accurate temperature measurements and totally reliable. Because you don't make contact, you can take action even when your baby is sleeping without even realizing it. Thus, non-contact thermometers become the most practical and reliable in any situation. Infrared thermometers are especially useful for babies and children as well as adults.
Knowing how to use it well from day one
Infrared thermometers do not work the same as traditional thermometers for oral, axillary, or rectal measurement. In order to use non-contact thermometers correctly, certain considerations inherent in this new technology must be taken into account.
So when you buy a new infrared thermometer, you should spend a few minutes learning how to use it and performing several test measurements to know each person's temperature range.
Do not hesitate to consult our complete guide to using the infrared thermometer. As you go for the Non-contact thermometer buy  then you can have the smartest solutions right there now.
The temperature of an individual
Body temperature is not the same in everyone. A normal body temperature is not a specific value but rather a range of temperatures. The range of normal temperature of a person tends to decrease with age.
Classic temperature intervals by age
Take temperature baby fever0-2 years: 36.5 degrees to 38.2 degrees

3-10 years: 36.0 degrees Celsius to 37.7 degrees Celsius

11-65 years: 35.8 degrees to 37.5 degrees Celsius

+65 years: 35 , 5 degrees Celsius to 37.3 degrees
This interval also varies from person to person and can be influenced by many factors. Note the time of day, activity level, medications, emotions, etc.
We recommend that you train with any thermometer. This starting with yourself and then moving on to the rest of your family. When they are healthy then the opportune times when they are sick.
So it is possible to know how the thermometer reacts with each person and what their normal body temperature is . This way you can be more sure of what action is taken when a family member is ill. This measurement will serve as a standard.
Main recommendations for the correct use of a non-contact thermometer
To get exact measurements, it is very important to always check that the infrared sensor is clean before use. If the temperature of the place where the thermometer is stored is very different from the place where the measurement is taken, you should wait a few minutes until the temperature of the thermometer is balanced with that of the room.
Other external factors, such as being exposed to very high temperatures (for example being in the sun, cuddling or breastfeeding in babies) or very cold temperatures (outside in winter or in the summer) can influence the temperature of the forehead. In these cases, the person whose temperature is to be taken should remain in a resting position and in the same environment as the thermometer for at least 10 minutes.
The Thermoscan 7, the best body thermometer on the market
The Braun Thermoscan 7 is a new non-contact infrared thermometer for measuring the temperature on a baby's forehead in a really easy way. It also measures the temperature of objects and liquids such as milk, baby food. As well as the bath water or even the room temperature. It communicates measurements both by voice and through its backlit LCD display, proving that it is the easiest to use and most intuitive thermometer.